Dog boots have become more than just cute accessories.
Most dog owners now recognize that dog boots serve a very important function.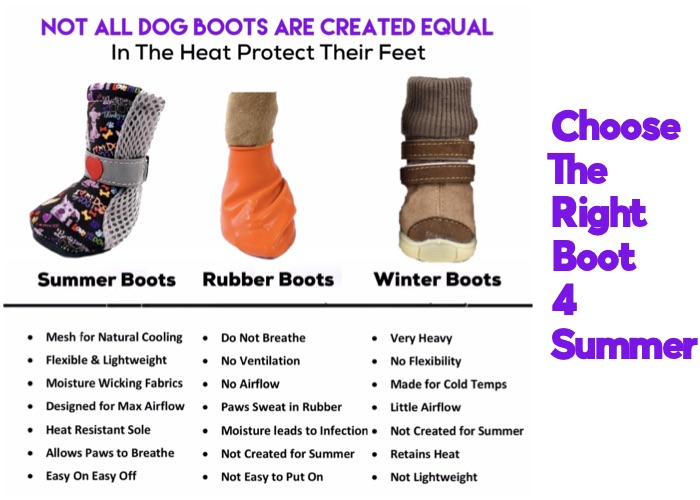 In the winter dog boots protect paws from frost bite, cuts from ice, & protect paws from painful chemicals put down to melt snow.
These chemicals are poisonous and if licked off can seriously harm your dog.
Winter boots like Ruffwear or Muttluks can be great in the heavy snow as they can keep paws warm and protected. Rubber balloon boots can help in keeping paws dry but they don't provide warmth. These are great choices for winter but are not at all good for the heat of the summer.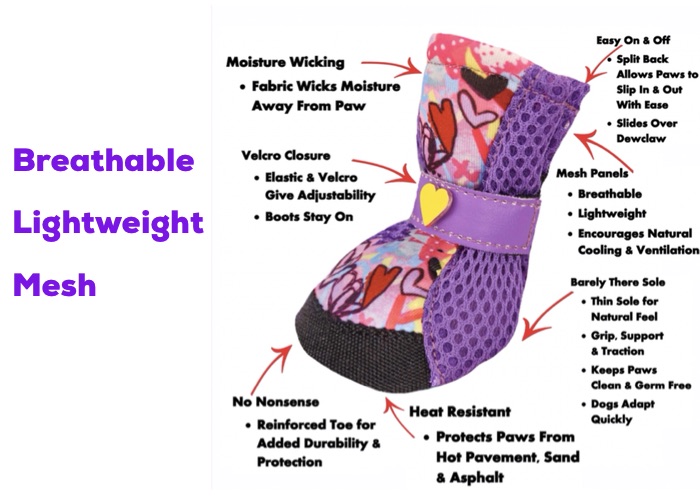 When the summer arrives many owners get excited about taking their dog on long walks and forget about all the dangers that the summer heat can pose. Paws can burn in seconds on hot pavement or sand which are usually 40 degrees hotter than the air temperature. Dogs also run the risk of injury due to bee stings,lawn chemicals, sharp rocks, etc.
In the summer dogs require an entirely different boot because they sweat through their paws. Merocrine glands are located in dogs' paw pads. Sweating through their paws helps dogs cool down but can also raise problems if the right paw protection is not worn.
A breathable boot is essential because we need the paw to remain as cool and sweat free as possible. Moisture if encased in a rubber type boot can lead to fungal & bacterial infections.
A good boot should have moisture wicking fabrics to absorb any sweat from the paws.
Most importantly a summer dog boot needs to have a heat resistant sole. As mentioned sidewalks, sand, asphalt, artificial grass, & gravel can become much hotter than the mercury level is telling us.
Poochy Pawz have designed a great summer dog boot that has all the features you need for summer but have included a protective toe guard, an elastic strap to ensure proper blood circulation, mesh panels to create natural cooling and a Velcro closure for secure adjustability.