Ticks! Just the word causes shudders. Ticks are spider-like, egg-shaped, blood-sucking creepy crawlies. They have eight legs and vary in size from about 1mm to 1cm long. Although they can be as tiny as a poppyseed, they can cause tremendous discomfort and suffering for your pet.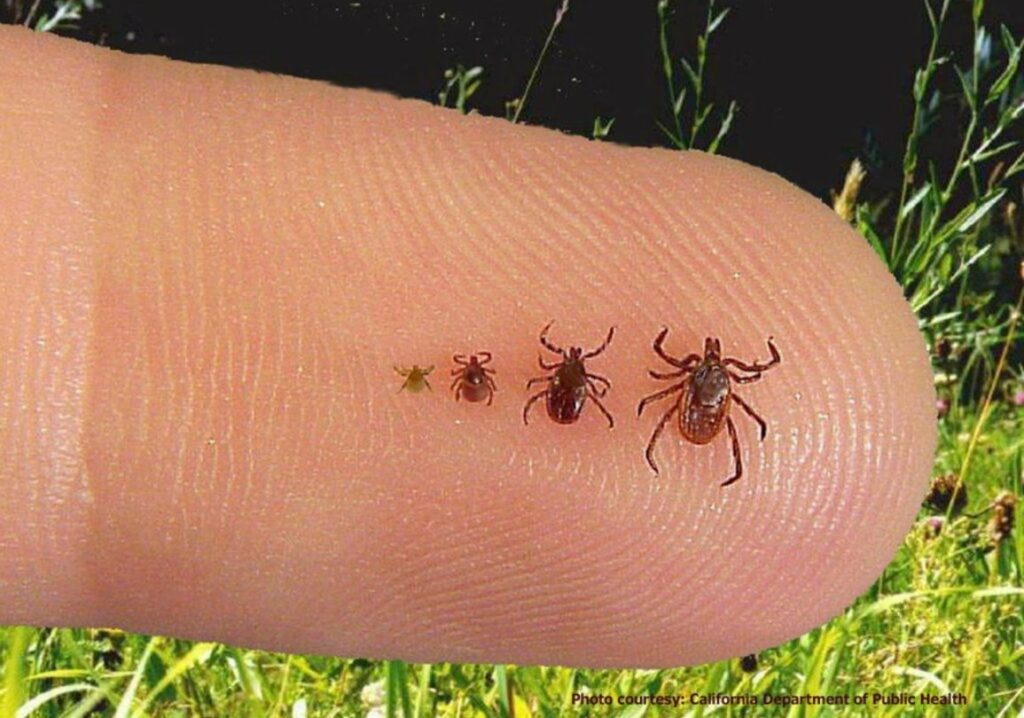 Ticks can latch on to any part of your dog and live in hiding, feasting on your dog's blood. Even dogs with flea & tick collars or other protection can be a host for these dangerous insects. Avoiding ticks at all cost is essential as these parasites cause very serious illnesses for you and you pet. For example Anaplasmosis, Lyme disease, Rocky Mountain spotted fever, and tick paralysis are just a few of the potential diseases caused by tick bites.
Where do Ticks Hang Out?
Ticks are common in woodland, grassland and heath areas, but can also be found in your garden if you live in an area with lots of wildlife. They are most common during the summer months, however they can be active year round. Ticks don't fly or jump, but climb or drop on to your dog's coat when you brush past the area they are sitting in.
How to Spot a Tick?
Ticks love to hide in dark places. Always run your hands over your dog's body when you get back from a walk to check for any lumps or bumps. A tick will feel like a small bump on your pet's skin. They tend to attach themselves to areas around a dog's head, neck, ear and feet. Pay special attention to your dog's armpit, under the tail, gums and even between the paw pads.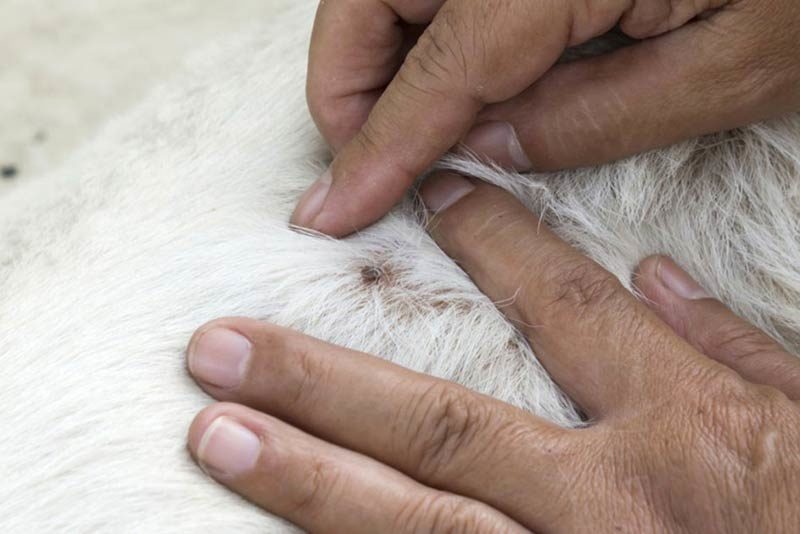 How to Safely Remove Ticks
You've spotted the little bugger, now how do you remove it? Since they carry dangerous diseases, you want to make sure you get rid of them before as quickly as possible. Removing ticks can be tricky, you need to be careful not to squeeze the tick's body or allow its head to get stick inside your pooch. Squeezing a tick's body can cause it to excrete blood back into your dog increasing risk of infection.
Using a pair of tweezers is the most common and effective way to remove a tick. Make sure you use very fine tipped tweezers to avoid tearing the tick. Spread your dog's fur, then grasp the tick as close to the skin as possible. Very gently, pull straight upward, in a slow, steady motion. This will prevent the tick's mouth from breaking off and remaining embedded in the skin. People often believe it's the head of the tick that embeds in the skin. But ticks don't have heads, in the conventional sense, so what gets inserted into your dog is known as "mouth parts." (American Kennel Club)
Another option that is even easier to use is the use of a tick removal hook. There are several types of hooks, like the Tick Twister or the Tick Stick. You simply put the prongs on either side of the tick and twist upward. Of course if you are not sure what to do, err on the safe side and take your dog to the Vet.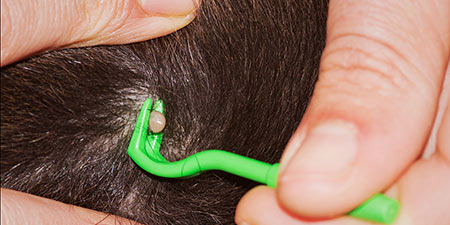 Preventing Ticks
There are many options to help prevent ticks, from natural repellents to topical treatments, oral medications and shampoos and dips. It's also a very good idea to use dog booties (at least to protect their paws from the nasties) when on walks in wooded and grassy areas. We recommend a lightweight summer boot made by Poochy Pawz.