Nothing says summer more than heading off to the beach. Many beaches allow you to bring your pooch and some are even dog friendly designated. Who doesn't love watching their beloved dog romping through the sand and waves? Although it makes for some of the most fun, a beach day can be hazardous for your dog, so make sure you take the following precautions:
Hot surfaces like sand can lead to burned and blistered paws. The composition of sand causes it to heat up as the day progresses and to retain that heat, reaching temperatures as high as 140°F—sufficient to inflict third-degree burns. One of the best ways to protect paws from burning sand is to invest in a set of summer boots. Make sure they are lightweight and provide proper air flow. Never use a rubber bootie; they actually increase the heat and don't provide circulation or protection from burning surfaces. Just as our skin perspires in the heat, dogs regulate their temperature through sweating, and their sweat glands are located in their paw pads. Poochy Pawz City Shoes are ideal for the beach- made from breathable fabrics, they are fast drying with mesh for natural cooling and a heat resistant sole.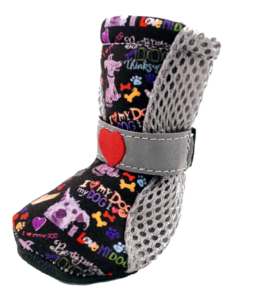 2. Sunstroke is a serious danger for dogs who are covered in fur and are not used to warm temperatures for multiple hours. Watch for the signs of heatstroke, which include excessive panting, drooling and vomiting. Try to keep your dog in the shade as much as possible. It won't keep all the heat off your dog, but it will at least keep the direct sun off them giving some relief.
3. Always bring lots of cool fresh water and a drinking bow for your dog. Never allow your dog to drink salt water, when a dog ingests salt water, the excess salt draws water from the blood into the intestines, leading to diarrhea, vomiting, and dehydration, and even death.
4. Don't forget the Sunscreen. Light colored dogs or dog's with sparse hair can burn in the sun so before applying sunscreen to yourself apply a good waterproof pet-friendly sunscreen to the ears, nose and tummy to your fur companion. Sun reflects off the sand and can burn the underside or stomach of your dog. We recommend Epi-Pet Sun Protector Spray sunscreen.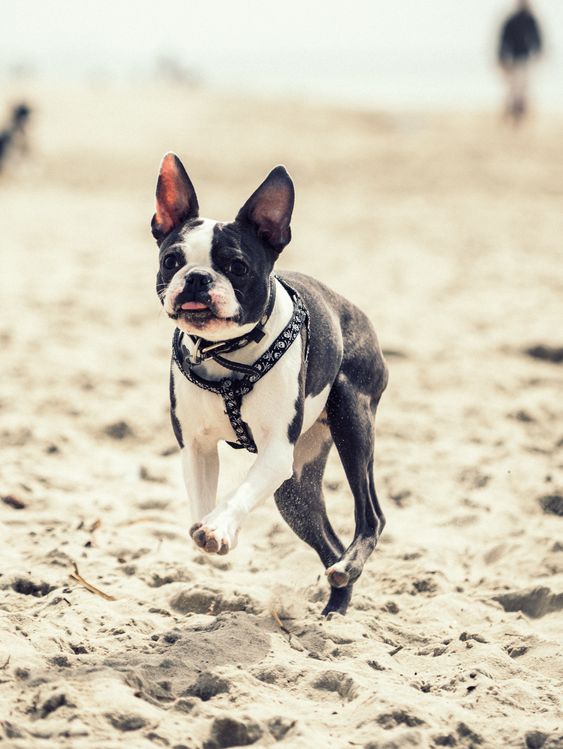 Make sure your dog can swim. Most but not all dogs can swim, however breeds like pugs and corgis can't. Unless you are certain your dog is a strong swimmer, it may be a good idea to get your pooch a life vest, or at least ensure there aren't strong currents or large waves.
Beware of sharp objects- shells, glass, debris, even jellyfish and man of war. Sometimes even the most pristine beaches have dangers lurking beneath or on top of the sand. The best prevention to avoid your dog injuring itself is to use a pair of summer boots.