Veterinarians are warning that they are seeing an alarming increase in dog paw burns due to record hot weather. In fact, burns due to hot pavement are one of the top injuries Vets see in dogs in warm seasons. Although dog's paws may appear tough and hard, they are as sensitive as human feet.
So how hot is too hot to walk a dog on a pavement?
"Dogs can suffer burns to their paws on days most dog owners wouldn't consider exceedingly hot" – Dr. Alison Mason, DVM.
If the outside temperature is a pleasant 25C (77F), there's little wind, and humidity is low, asphalt and tarmac can reach a staggering 52C (125F). This can rise to 62C (143F) when the mercury hits 31C (87F).
To put it in perspective; an egg can fry in five minutes at 55C (131F) while skin destruction can occur in just one minute at 52C (125F).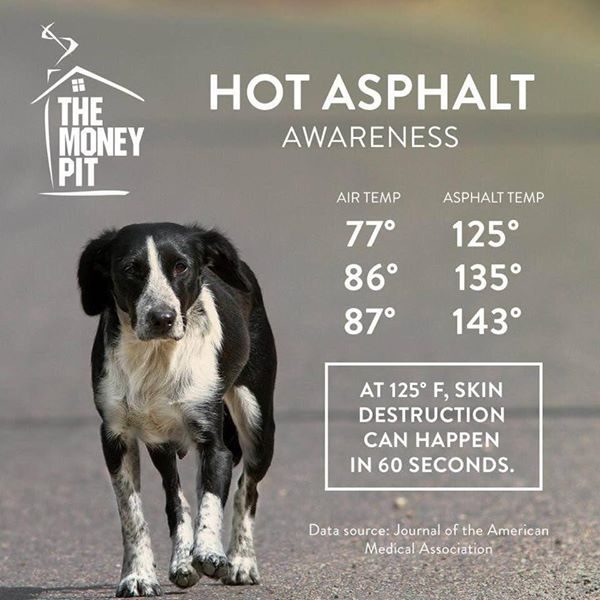 The reason pavement gets so hot is that it soaks up heat all day and then retains that heat. Even just a few minutes contact with hot pavement can cause dogs' sensitive paws to burn. Since dog's sweat glands are located in their paws, they can as well absorb heat directly from the sidewalk which can increase their risk of suffering from deadly heatstroke.
The 5 Second Test
If you're unsure whether it's too hot to walk your dog on a hot day, here's a quick test: either step barefoot on the surface or place the back of your hand down on the surface for 5 seconds. If it's too hot for you, it's too hot for your pooch.
Are all surfaces potentially dangerous for dogs on hot days?
Studies have shown that some surfaces retain heat far better than others. In one university experiment, the temperature of six different surfaces was taken at two points in the day on two separate summer's days.
The results showed that artificial grass came out hottest in all four trials, followed by the material that's used to make running tracks and then asphalt.
Asphalt is the most widely used material in roads and pavements while artificial grass is increasingly being used to replace natural grass in parks and gardens.
All three surfaces measured upwards of 50C (122F) at 2pm on both days. This temperature could severely burn a dog's paws within a matter of minutes.
Brick and concrete came next in the surface temperature league table followed by natural grass. While sand wasn't included in this experiment, it can get exceedingly hot too.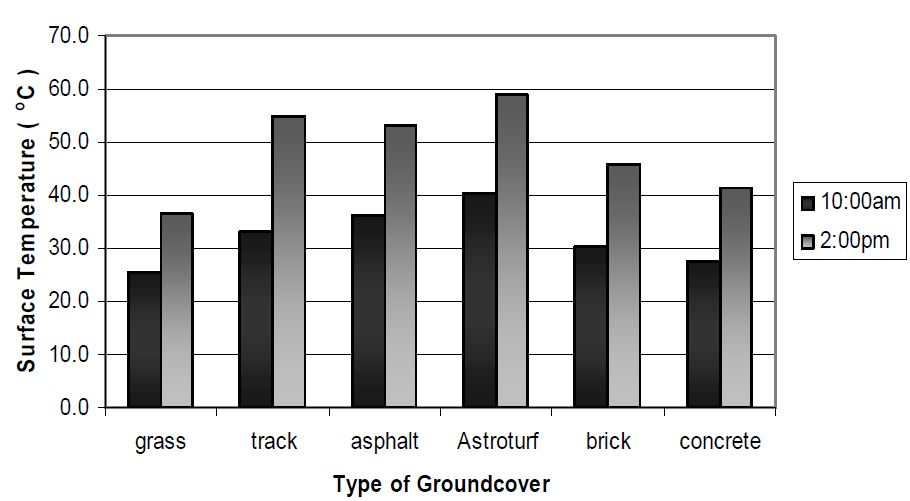 Graph showing the temperature of six different surfaces on a hot summer's day
Preventing Paw Burns
Now you don't have to chose between going out with your best friend and risking injury.
City Shoes ™, the world's first dog bootie is specifically designed for warm weather. Unlike winter boots which are non-breathable and heavy, City Shoes ™ combine lightweight breathable fabrics, mesh and a heat resistant sole. Your pooch will stay cool and comfy even on those hot days.